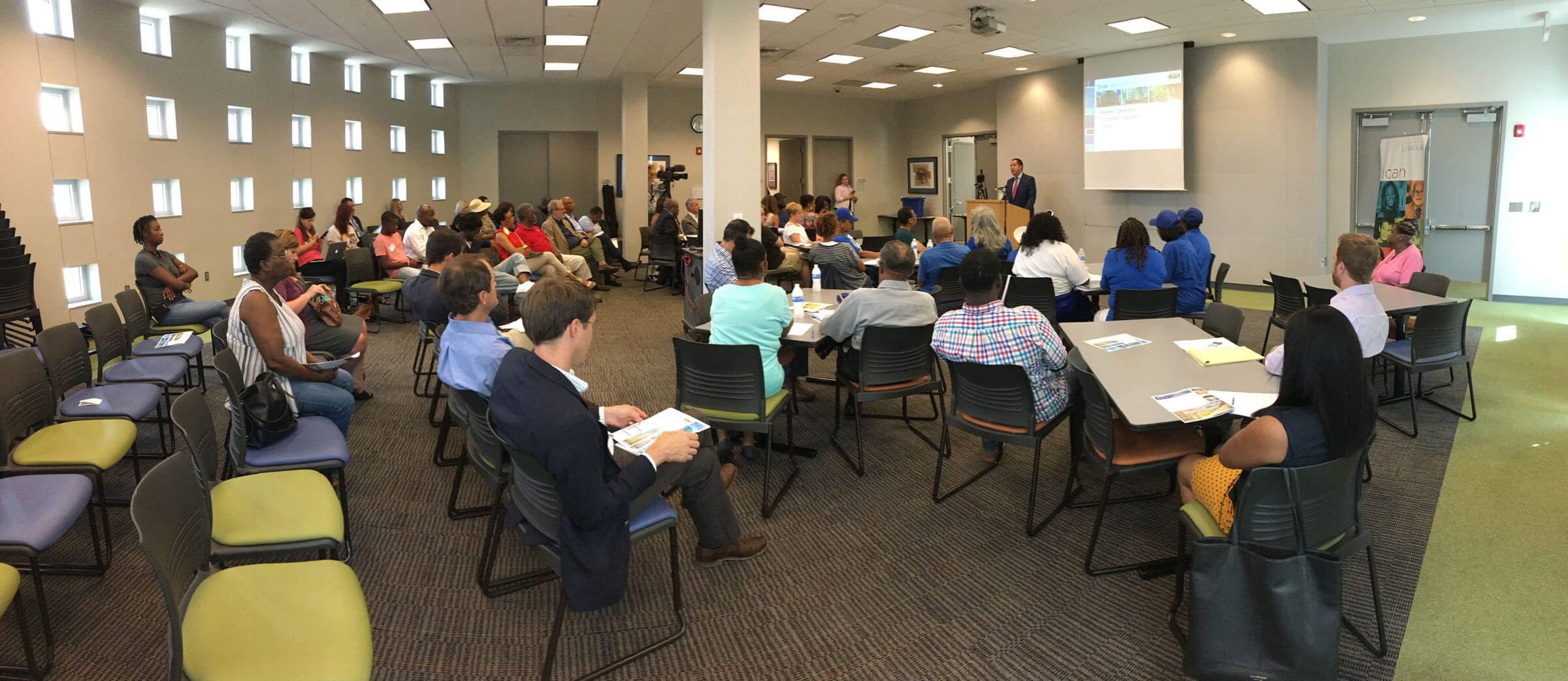 THURSDAY, AUGUST 4

Kickoff Event

Charlotte Mecklenburg Government Center Room 267

600 E 4th Street

Charlotte, North Carolina 28202

MONDAY, AUGUST 15
TUESDAY, AUGUST 16
History of Brooklyn and Cultural Programming
Beatties Ford Library
2412 Beatties Ford Road
Charlotte, North Carolina 28216

MONDAY, AUGUST 29
TUESDAY, AUGUST 30
MWSBE Participation and Outreach
LUESA (Former School of Law Bldg)
2145 Suttle Ave.
Charlotte, NC 28208

MONDAY, SEPTEMBER 12
TUESDAY, SEPTEMBER 13
Affordable Housing and Public Open Space
Little Rock AME Zion Church Fellowship Hall
401 N. McDowell St.
Charlotte, NC 28204
Slideshow Presentation
MONDAY, SEPTEMBER 26

Economic Opportunity and Approach to Retail

6:00 PM – 8:00 PM

LUESA (Former School of Law Bldg)

2145 Suttle Ave.

Charlotte, NC 28208

TUESDAY, SEPTEMBER 27
Economic Opportunity and Approach to Retail
11:30 AM – 1:30 PM
LUESA (Former School of Law Bldg)
2145 Suttle Ave.
Charlotte, NC 28208

WEDNESDAY, OCTOBER 19
General Information Sessions
Click the times below to view videos from each session.
10:30 am Session
1:00 pm Session
3:00 pm Session
6:00 pm Session
LUESA, 2145 Suttle Ave.
Charlotte, NC 28208

THURSDAY, OCTOBER 20
Town Hall Meeting
6:00 PM – 8:00 PM
Charlotte-Mecklenburg Government Center Room 267

Late 2016Negotiations

BK Partners and the County review community input, and go into negotiations to fine-tune the submitted proposal and create a Master Development Agreement. Negotiations will include – but are not limited to – discussion about housing density and types, including affordable housing units; retail and commercial development; greenspace and park areas; and historic preservation. This will lead to contracts to purchase each of the sites and create the development as specified in the Master Development Agreement.

2017Contract

The County will enter into a contract to sell the Brooklyn Village and Walton Plaza sites to BK Partners. The two sites will ultimately be developed as Brooklyn Village North and Brooklyn Village South, respectively, with market-rate and affordable rental units, condominiums, retail space, office space, hotels and open green space.

2017-2018Planning & Entitlements

After the overarching plan is agreed upon, the contract is executed and the team proceeds with rezoning part of the development. In that phase, there will be more in-depth architecture, planning and design work as well as opportunities for more public input as part of the rezoning public meeting process.